About
Jennifer Green, Managing Principal
Jennifer is uniquely "specialized as a generalist" in strategic global total rewards/recognition and organizational development: mergers &acquisitions integration, change leadership, organizational effectiveness, employee engagement and goal alignment, contextual leadership coaching, and more. Her career has covered small to mid-size public and pre-public to global Fortune 50 – 100 companies in high-tech, life science, and health insurance industries. Ms. Green is highly proficient at cultivating strong, collaborative partnerships with key stakeholders to effectively plan and execute solutions to organizational effectiveness challenges. She has a cadre of "A" player experts that provide services to client projects in all facets of human resources, including leadership assessment and development, training, talent acquisition, and talent management.

SPHR | Master Strategist, HCI | Master Practitioner, Leadership Coach (IPEC)
Who We Are
A boutique organizational development professional services consultancy, with Fortune 50 – 100 Corporate caliber experts with "A player" capabilities, focused on developing strategic talent solutions for clients who want organizational effectiveness and efficiency. Complementing our core team to provide global expert solutions and services are Specialists with global and local best practices in Legal Compliance, Benefits, Learning and Development, Mediation, and International Assignment Management. SHRM, IPEC and HCI certifications and membership with SHRM, SAHRA, NCHRA, and ASTD provide additional resources for research and best practices for our clients.
Our Mission
To provide exceptional Business Partnership and Change Leadership to help clients achieve their business strategy and goals in a sustainable way.
How We Are Different
Flexible Approach to Delivery of Solutions – we work as Strategic Business Partners and Change Agents with our clients.
Best In Class Experts deliver solutions configured to client culture, structure, business strategies and processes.
A holistic approach to providing services by: integrating organizational effectiveness components; aligning with business strategies; and applying proven methods to achieve successful adoption of the change by all stakeholders.
---
Change Management Toolkit
The Why, What, and How of Managing Change
Why is a Change Management Approach to Projects So Important to Achieving Results?
How much of the results of your current project depend on people adapting to and applying what you are introducing – 80%, 90%, or more? Do you remember the last time the enterprise-wide information system or benefit program launched and what the results were? How have employees applied the recent release of employee self-service? Whether you are rolling out a new system, benefit options for employees, or new tools for accessing and editing your own records, you want your efforts to result in:

Delivery of the benefits of what you are introducing;
A positive return on resources invested (ROI);
A change in people's attitudes and behaviors;
Minimizing the risks involved in introducing something new, and my personal favorite;
A solution to the problem

If you want people to adapt to something new and apply what you are introducing, then you have to do certain things to move them from being unaware and possibly resistant – to taking action. Change takes place "one person at a time" and collectively moving in the same direction is what constitutes organizational change.
What does Green Global Resources do to help organizations with a Change Management Approach to Projects?
Green Global Resources provides change management leadership and coaching, based on experience, knowledge, and tried and tested tools, to help organizations adapt to change – one person at a time. We provide the step-by-step change management process (tools and methods), and activities that support the preparation, launch, and sustaining phases of projects. Ours is a structured approach that has been used in small and large companies (25 – 50,000 employees) in various industries (professional services, health care, and high-tech), in the context of various Human Resource and Technology product launches.
The mission of our approach is to support business readiness, ensure positive ROI and successful achievement of business outcomes, through:

Configurable change leadership methodology and tools
Change leadership coaching and guidance for the project team leader, sponsor
Help with selling the change management approach to the executive team
Help with development and execution – from preparation, through launch, to sustaining phases of the project.
"How" does Green Global Resources Approach the Challenges of Change Management?
Our approach is intended to help make projects more successful and yield better results by providing practical step-by-step coaching and guidance to project sponsors, project leaders and teams, along with tools and templates. Our experience tells us that tools without guidance or training without experience are not effective. For optimum project results – tools, training, knowledge, and experience are all necessary ingredients to manage the change impact to people, process, and technology.

Green Global Resources focuses on helping organizations manage the three main phases of change implementation with knowledge, experience, training, and tools:

Phase 1: Prepare for the Change – building the vision and business case (describing current versus future state), through building the Adoption Network, to assessing the impact and readiness of the organization to adopt the change;


Phase 2: Delivering the Change – identifying the perceived barriers and risks involved in stakeholder engagement, formulating the plans for communications and training. The Ambassador Group is an important part of the Adoption Network and the delivery of the change. We include in this phase critical deliverables such as the identification of stakeholder engagement barriers and the planning and implementation of communication and training as required to ensure adaptation.


Phase 3: Sustaining the Change – the concluding project phases (implementing support and evaluating results).

All of the tools contained in the Toolkit are listed below in summarized form. The tools provided in the Toolkit are not required for all projects. See the summary of the list of tools and what each is intended to deliver in the chart below. The chart colors correspond to the phase the tool is intended to support:

Prepare – light green
Deliver – light brown
Sustain – lavender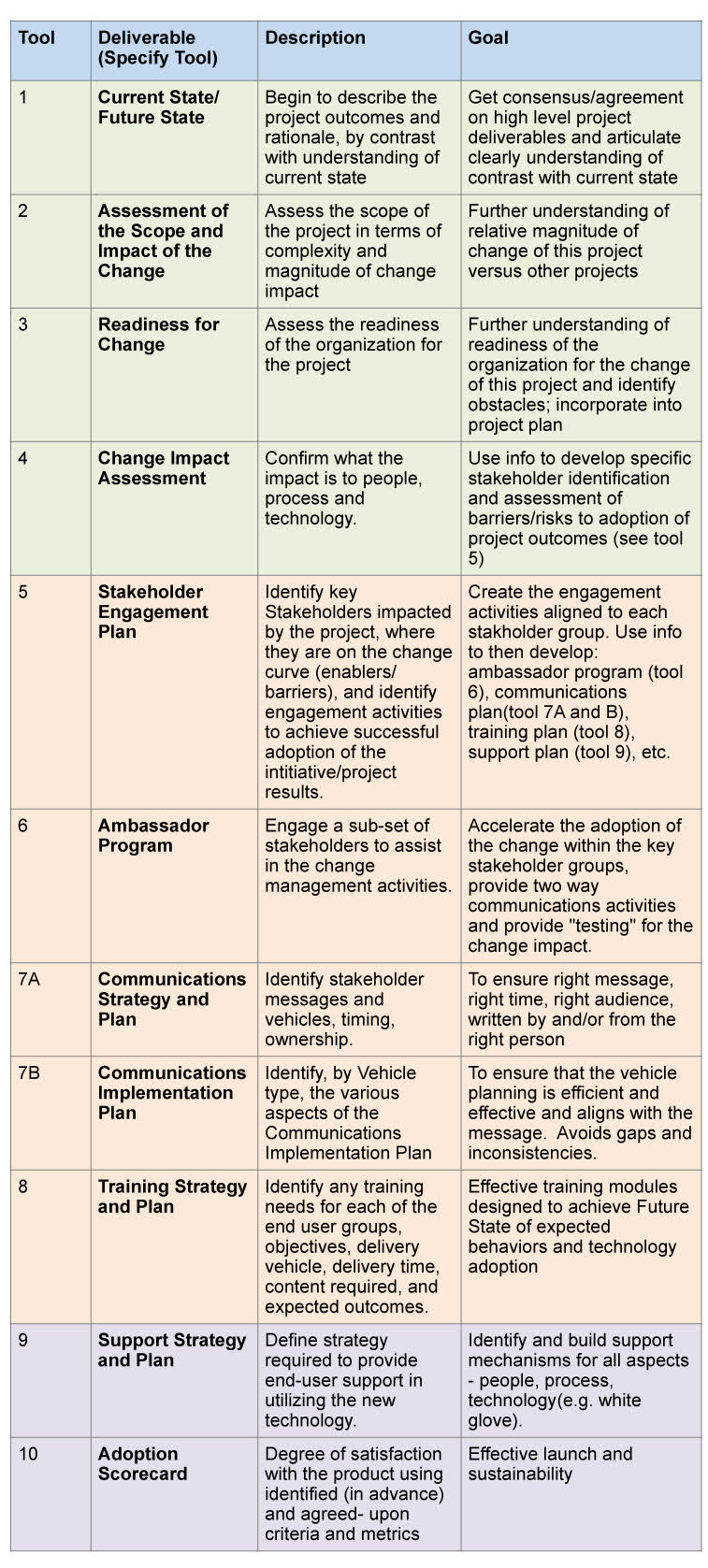 How much change – Assessing the Scope and Impact of the Change
Not all change requires consulting, tools, and change management methods, nor is change the same for all organizations. To one organization, the introduction of new tools and/or benefits is a frequent occurrence, and to another organization, these types of changes are viewed as dramatic. To help organizations assess the extent of the change, the scope and impact chart is provided as a guide.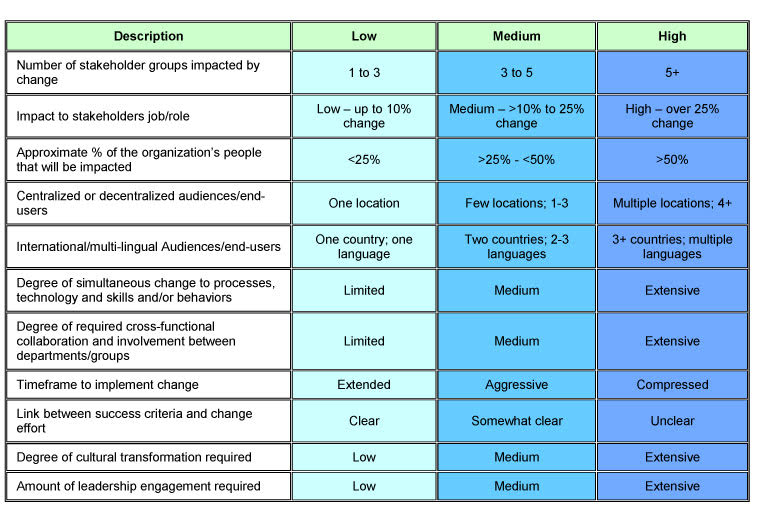 The chart below summarizes the tools recommended (highlighted in green) after assessment of the change impact to the organization (low, medium, high). This is intended only as a guide in beginning to select your change management approach.
To learn more, email jennifer@greenglobalresources.com or call (650) 823-7775.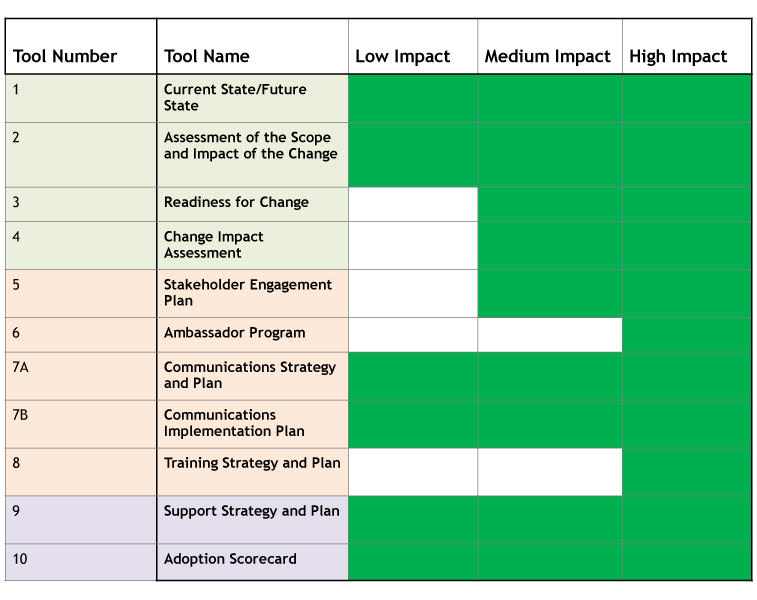 ---
Services
Business Strategy Alignment. Organizational Effectiveness. Change Management.
Vision, Values, and the Employee Value Proposition
Surfacing and Refinement
Creation and/or Articulation
Talent Acquisition
Mergers and Acquisitions
Due Diligence and Integration
Hiring Strategy and Plans
Onboarding Program
Competencies and Role Clarity
Role Segmentation
Cost Analysis of Benchmarks
Competencies Documented
Performance Management
Evaluation Process / Methods / Systems
PIP Best Practices
Communications
Management Training
Rewards and Recognition
Total Rewards Philosophy and Strategy
Compensation and Recognition Program Design and Implementation
Sales Compensation
Employee and Leadership Development
Individual Assessments and Plans
Coaching and Guidance
Training Solutions
Talent and Succession Planning
Org and Talent Capability Assessments
Succession Plans Documentation
Retention and Engagement
Surveys and Action Plans
Retention Strategies
Downloadable Presentations
---
This site records access log files (on the server) but collects no additional or user-specific information.
We do not use "cookies."

Site hosting by Brevard and Brevard Consulting
Last Edited: 2022 06 29 1310 CDT LCB